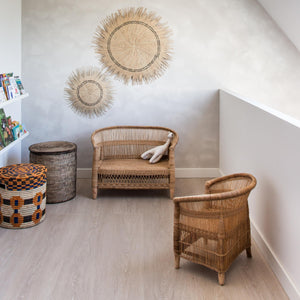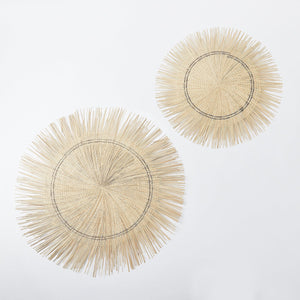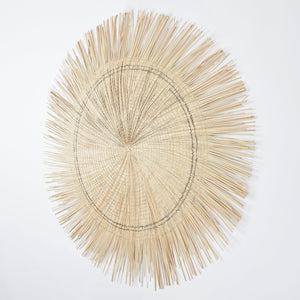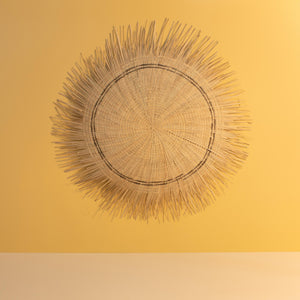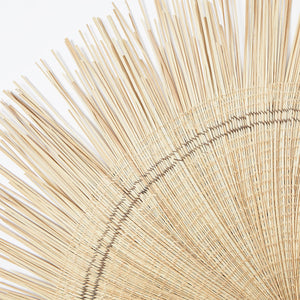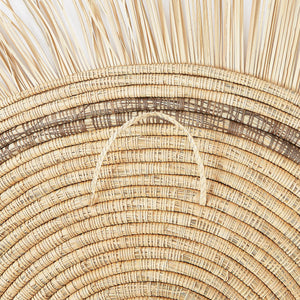 Sculptural and true works of art, that's how we would describe these special wall objects. Each piece is woven by the first basket weaving group in Malawi. Real women's power! The sun circles have two fine brown circles, which form a great contrast to the natural fibre. Available in two sizes: M (90 cm) and L (120 cm).
The wall hangings look great individually or in a set of two.
Installation is super easy: all sun circles have small, braided loops on the back and can be hung on the wall like a picture.
Diameter: 120 cm
Material: Mulaza palm (natural fibre)
Colour: Nature
Production time: several days, depending on size
Origin: Malawi
Good to know: 
Each sun circle is hand-woven by artisans from an award-winning social enterprise in Malawi and is truly unique. Please therefore expect small variations in size and shape. Through product innovation, international designer cooperation and outstanding quality, a circular value chain is created with the manufacture of this product, which offers the weavers fair pay, new perspectives and economic opportunities through sustainable strategies.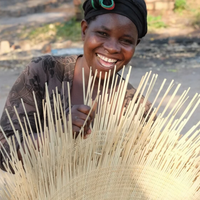 The weavers of Blantyre
"I'm super proud that through innovative designs we have rejuvenated and made hip a traditional profession that was previously considered inferior, outdated and underpaid."
Maria, founder of the social enterprise
This item is a bulky good. Items that are shipped as bulky goods will be charged pro rata with 30,00€ shipping costs. This is also the case with normally free shipping. If you are not satisfied with a product, you can return the product within 30 days.
In the event of an exchange or complaint, we will of course bear the return costs. We will also pay for returns that are explicitly counted as bulky goods.