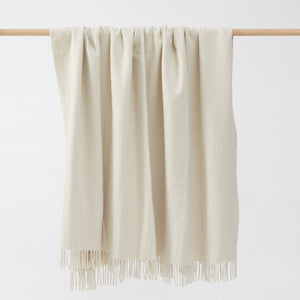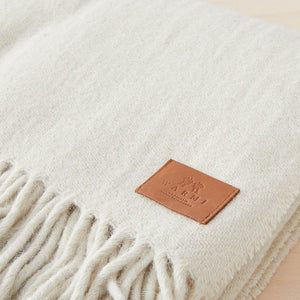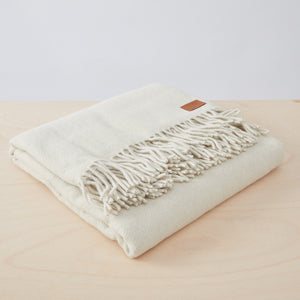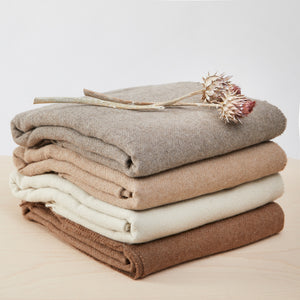 Our Puna blankets have the potential to be an heirloom, so superior is their quality. They are woven by indigenous communities in the high altitude, desert and rugged landscape of northwestern Argentina. The people here have a deep connection to Pachamama, the "Mother Earth". 
All blankets are made from sustainable llama and new wool and have the natural colour variations of the llamas. The complex selection of the colour is done manually and makes this product an exclusive favourite that will give you a lifetime of pleasure. During production, the blankets are first woven by machine to create the fluffy flannel look. Then the blankets are finished by hand. They are super soft and warm, yet very robust, temperature regulating and hypoallergenic. 
We source our Puna blankets directly from the indigenous social cooperatives where they are made, at a fair price. 
Size: 220 x 150 cm 
Material: 65% llama wool + 35% virgin wool
Colours natural white
Production time: 1 day
Origin: Argentina


Good to know:
The llamas and sheep are kept by small producers and farmers and graze freely on open pastures in the mountain valleys of the Argentinian Puna. Shearing is done manually with special shears for the welfare of the animals as opposed to machines. Mulesing is never practised here. 
Tip:
Airing instead of washing! Our Puna blankets are a purely natural product, naturally dirt-repellent and to a certain extent self-cleaning. Simply leave your blanket out in the fresh air overnight. This allows the fibres to regain their natural moisture.
Cleaning:
Professional dry cleaning only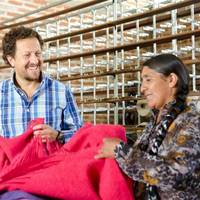 "Warmi stands for perseverance, creativity and the desire to make the world a better place. Through our fibres, the mystery, silence and depth of Argentina's Puna materialises in this modern world."
Rosario Quispe, Warmi Sayasunko

All orders over 50€ will be shipped free of charge within 2-3 days. If you are not satisfied with a product, you can return it within 30 days.