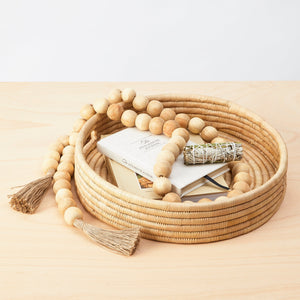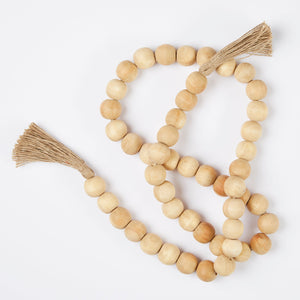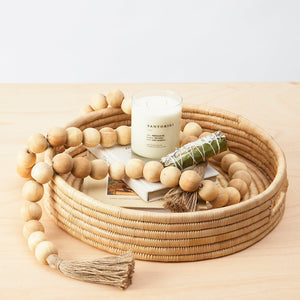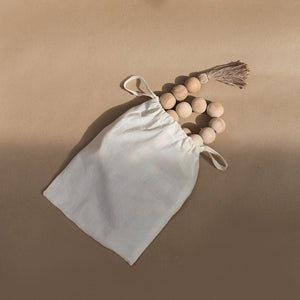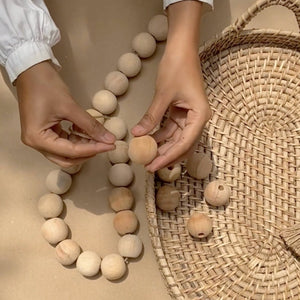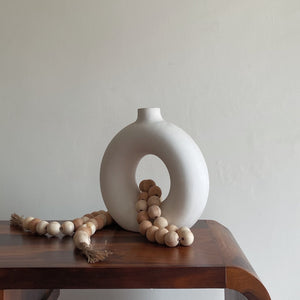 Varanasi is the spiritual capital of India and attracts countless Hindu pilgrims who bathe here in the holy waters of the Ganges. It is known for its rich cultural heritage and craftsmanship. This is where our garlands of oversized wooden beads come from, made fairly and sustainably by a young design collective in collaboration with traditional, skilled artisans. 
First, the large wooden beads are turned from neem wood and intricately polished by hand. Each bead is carefully inspected for imperfections before being strung on jute ropes and the garland is fitted with two tassels. 
The wooden beads garland is great for decorating and offers countless styling possibilities. For example, you can put it around vases and on book stacks, place it on a tray, tie it around curtains or hang it on door blades.
Length: 175 cm (50 wooden beads)
Diameter of the balls: 32 mm
Wood type: Neem (untreated)
Origin: Varanasi, India
Production time: 1 day
All orders from 50€ we deliver within Germany free of shipping costs in 2-3 days. For orders with a value below 50€ we charge 5,90€ shipping costs. If you are not satisfied with a product, you can return it within 30 days.