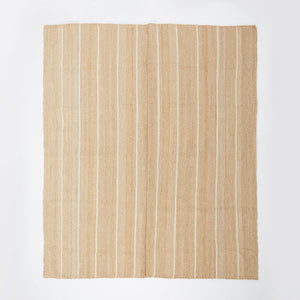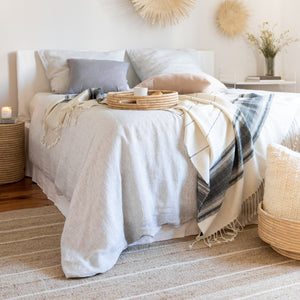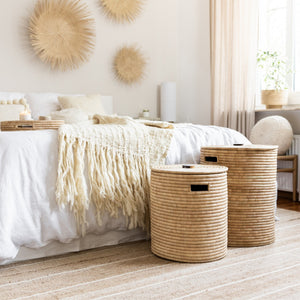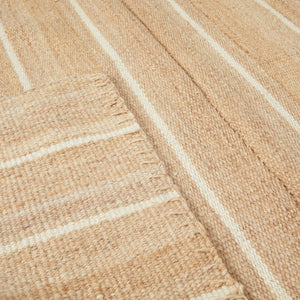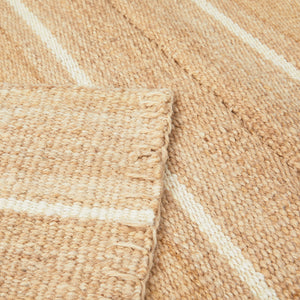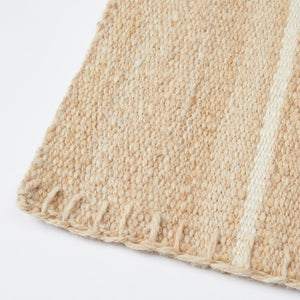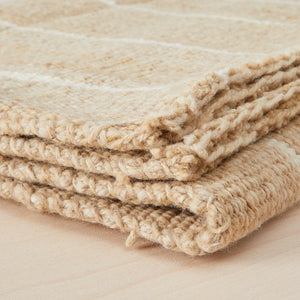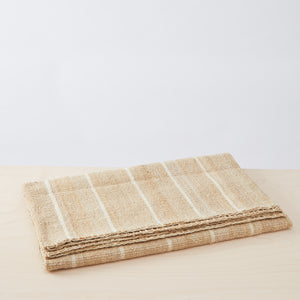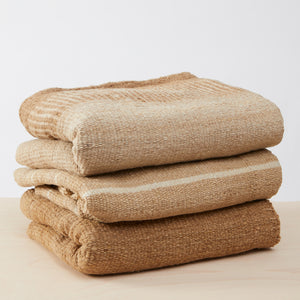 Our rugs are woven in the traditional way typical of Latin American rugs, with the looms used usually being as wide as the arm span of the weaver. Depending on the width of the loom, the rug may have a discrete joint where the rug panels are joined together, which is a beautiful element of handwork. 
The weavers use designs and colourways that only exist in Argentina and cannot be found anywhere else in the world. The colours are inspired by the dry, sun-baked forests and desert landscapes. From creamy white to honey colours to terracotta, a mix of shades gives these textiles an organic, elegant charm. Each piece is woven from raw and unique yarn that features gentle, natural variations, adding another dimension to the rugs.
When you buy a By Native carpet, you become part of a project that offers weaving families in remote areas a perspective through fair trade.
Sizes: 
160 x 200 cm, 200 x 300 cm 
Material: 100% virgin wool
Type of manufacture: Hand-woven 
Colours: Nature / Sand 
Production time: 4-6 weeks
Origin: Argentina


Good to know:
The wool for our carpets is sheared by hand, spun and dyed with vegetable dyes. All carpets are made on traditional looms and bear the weaver's signature in her individual design. Before delivery, each carpet undergoes a strict quality control. As all carpets are completely handmade and unique, they may show minimal variations in colour, details and dimensions. 
With your purchase, you will receive detailed instructions on how to clean and care for your carpet so that you can enjoy it for many years to come.
Underlay:
Always use a non-slip underlay under handmade carpets, placed on the floor and under the carpet.
We offer free underlays for carpets purchased in our online shop. Our high-quality underlays are made of jute and natural latex and are suitable for any surface. 
Care:
Vacuum your carpet regularly. It is very important that vacuuming is done gently and without friction. Use the largest attachment on the hoover hose and make sure it does not have a brush. Avoid direct, strong sunlight or other intense light as it can discolour the carpet over time.
Cleaning:
Because wool is naturally self-cleaning and our carpets contain natural lanolin, they repel water and dirt. This makes wool items extremely easy to care for and lighter colours less susceptible to stains than other light fibres. However, if cleaning is required (over a long period of time or due to stains), we recommend that you only contact a carpet specialist and dry cleaner who are experienced and specialised in carpets.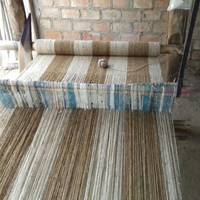 The carpet weavers from Santiago del Estero
"We are a small group of weavers in the heart of the dry forest. Here, where the sun pierces the landscapes and the sky freezes in its intense blue, the carpets have rich hues that make them unique."
Nancy, Speaker and Organiser of the Weavers
All orders over 50€ will be shipped free of charge within 2-3 days. If you are not satisfied with a product, you can return it within 30 days.