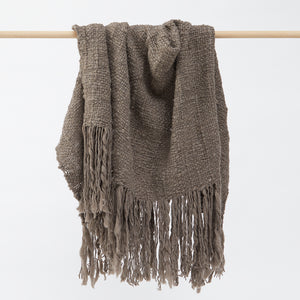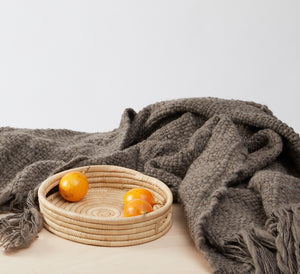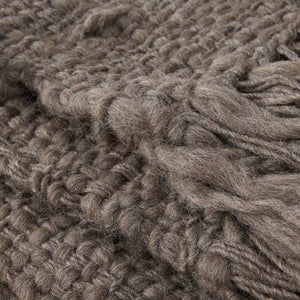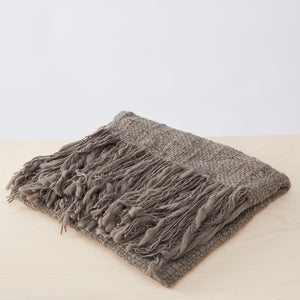 Made from soft merino wool, this blanket is a real doozy with its ornate, long fringes and chunky, textured weave. The blanket can be placed on an armchair as an accent or enhance your sofa or bed. Wherever it's placed, it'll add just the right amount of cosiness and create conversation. 
Our blankets are hand-woven by a small group of weavers in Buenos Aires. Each one takes 1.5 days to complete and is made in a fair working environment from start to finish. 
Size: 180 x 130 cm 
Material: 100% merino wool
Colour: Grey-brown
Production time: 1.5 days
Origin: Argentina
Good to know:
Argentine organic merino wool is comparable to precious fibres such as cashmere and alpaca for its suppleness, sheen and softness.
Because wool is naturally self-cleaning, it repels water and dirt. This makes wool items extremely easy to care for and lighter colours less prone to stains than other light fibres.
Cleaning:
Please do not wash, bleach, tumble dry or iron! Only professional, gentle dry cleaning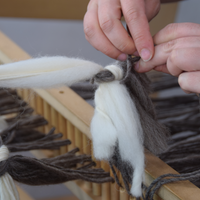 Palermo Weaving Studio
Our textiles are designed to encourage you to pause and relax. The characteristic weaving technique comes from the high art of weaving with which each product has been handmade by experienced hands over many hours. Our master weavers draw on the experience of entire generations before them. Together we develop new, textile expressions that bridge the gap between tradition and modernity.
Sofia, designer and founder
All orders over 50€ will be shipped free of charge within 2-3 days. If you are not satisfied with a product, you can return it within 30 days.