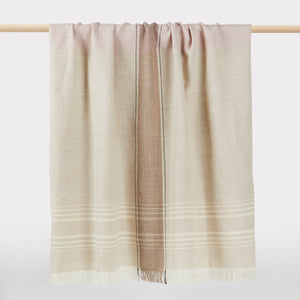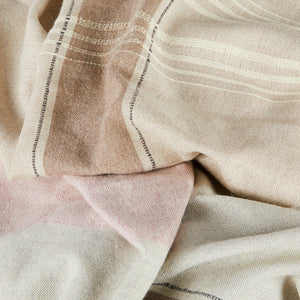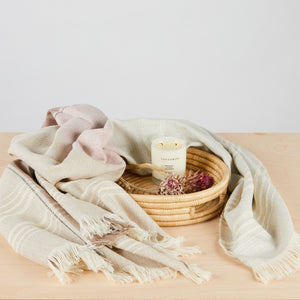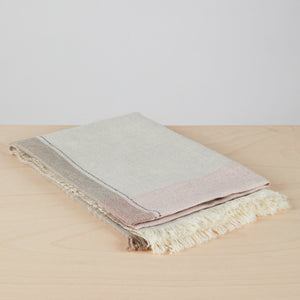 Story
With its colour pattern in beige, antique pink, natural white and grey, the "Nuna" blanket is a real gem. Hand-woven from soft baby alpaca, it is made for cosy days when you want to wrap yourself up.
The super-soft and remarkably lightweight material is so luxurious that it was once reserved only for the Inca kings. Each blanket is hand-woven by master weavers in a small mountain village in the Peruvian Andes in a fair trade environment. The production time of a single blanket is up to one week.
Alpaca fibres are one of the noblest and at the same time most fascinating natural hairs from which blankets and plaids can be made. Our blankets are thermoregulating, tear-resistant and almost as soft as cashmere, but much more sustainable in production.   
Alpaca wool is hypoallergenic, so this blanket is ideal for allergy sufferers or people with sensitive skin.
Size: 178 x 128 cm 
Material: 100% baby alpaca wool
Colours: grey, beige, natural white, antique pink
Production time: 1 week
Origin: Peru


Good to know:
Alpacas graze freely in their herds on the vast open pastures in the Peruvian Andes. The wool for our blankets is bought directly from small shepherd families at fair prices. The shearing of the alpacas is done manually with special shears for the welfare of the animals as opposed to machines. Mulesing is never practised here. 
Tip:
Airing instead of washing! Our baby alpaca blankets are a purely natural product, naturally very dirt-resistant, easy to care for and to a certain extent self-cleaning. Simply leave your blanket out in the fresh air overnight. This allows the fibres to regain their natural moisture.
Cleaning:
Please do not wash, bleach, tumble dry or iron! Only professional, gentle dry cleaning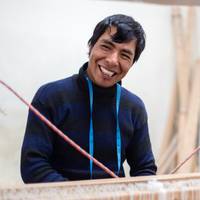 Weavers from Huancavelica
"We don't just want to create jobs, we want to create worthy jobs. Our job is always to help the individual workshops develop. We teach them to understand themselves as mini-companies, to set prices correctly, to plan operating costs and to grow in the long term."
Nelly and Maricucha, sociologists and directors of our partner organisation
All orders over 50€ will be shipped free of charge within 2-3 days. If you are not satisfied with a product, you can return it within 30 days.
Beautiful alpaca blanket
Bought as a gift. Super soft and beautiful color combination, the recipient was very pleased.