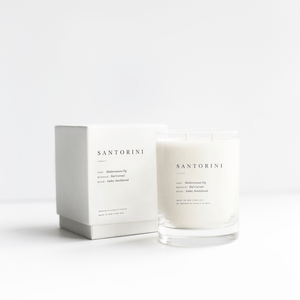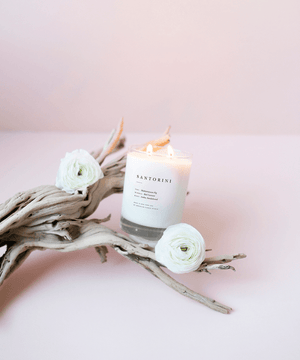 The hand-poured scented candles from the Escapist series by Brooklyn Candle Studio are inspired by nature, travel and memories. Each candle is lovingly and carefully hand-finished with lead-free cotton wicks, poured from soy wax and labelled in the small manufactory in Brooklyn, New York City. Free of petroleum, phthalates, animal testing and 100% vegan. 
A burning time of up to 70 hours ensures many cosy hours by candlelight The high-quality, refined scent compositions are intensified by the double wick and transport us to dreamy destinations:
Santorini
This is what holiday bliss smells like! Reminiscent of the earthy, fruity aromas of Santorini's many fig trees and lush local currants. Woody notes of sandalwood and amber create a rich, warm base that makes you dream of the Greek islands.
Brooklyn
Inspired by late nights with friends. The smell of old leather chairs in busy cocktail bars, live jazz in your ears and a drink with exotic ingredients like wild sage, cassis and orange blossom at hand.
Kyoto
The tree-lined streets and wooden architecture of Kyoto inspired this meditative blend of Hinoki cypress, cedar, sandalwood, vetiver and pine. Calming, woody & fresh with a clear yet romantic energy. 
Content: 369 g
Diameter: 8.5 cm
Height: 10.8 cm
Burn time: Up to 70 hours
Production time: 1 day
Origin: Brooklyn, NYC, USA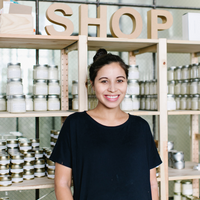 Brooklyn Candle Studio
"We like to think of our products as an experience for all the senses - from the artful, minimal packaging to the warm candlelight and delicate aromas that fill a room. So, go ahead, light one."  
Tamara Mayne, Founder
All orders over 50€ will be shipped free of charge within 2-3 days. If you are not satisfied with a product, you can return it within 30 days.