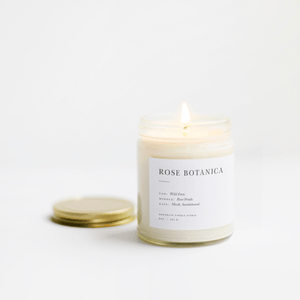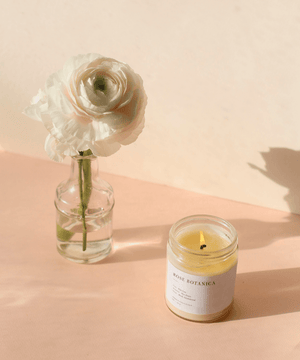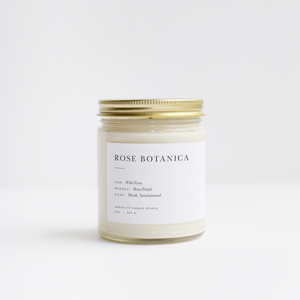 The hand-poured scented candles from the Minimalist series by Brooklyn Candle Studio are inspired by nature, travel and memories. Each candle is hand-finished with lead-free cotton wicks, poured from soy wax and labelled with love and care in the small manufactory in Brooklyn, New York City. Free of petroleum, phthalates, animal testing and 100% vegan. 
The elegant, straight jars with their minimalist labels go perfectly with a vase filled with fresh flowers or your most beautiful succulent on the bedside table or coffee table. The brushed gold lids make your candle travel-friendly. A burn time of up to 50 hours ensures many cosy hours by candlelight.The high-quality, refined fragrance compositions provide a soft, sophisticated and natural room scent. 
Rose Botanica
It is very difficult to find a really beautiful rose candle. Brooklyn Candle Studio has managed a masterpiece here. Rose Botanica smells like fresh roses from the garden and has wonderful woody elements that anchor the rose perfectly. Warm musk and sandalwood create a perfect balance. It fills an entire room with an amazing aura. 
Content: 227 g
Diameter: 7.3 cm
Height: 8.9 cm
Burn time: Up to 50 hours
Production time: 1 day
Origin: Brooklyn, NYC, USA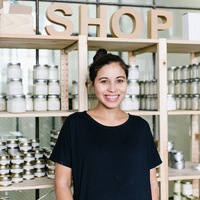 Brooklyn Candle Studio
"We like to think of our products as an experience for all the senses - from the artful, minimal packaging to the warm candlelight and delicate aromas that fill a room. So, go ahead, light one."  
Founder Tamara Mayne
All orders from 50€ we deliver within Germany free of shipping costs in 2-3 days. For orders with a value below 50€ we charge 5,90€ shipping costs. If you are not satisfied with a product, you can return it within 30 days.