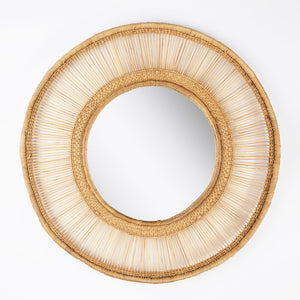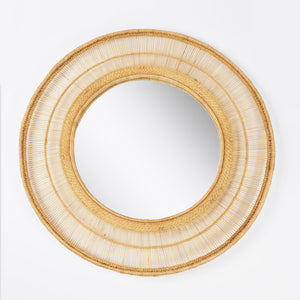 Inspired by the sun, the Malawi Sun round rattan mirror is guaranteed to become a centerpiece in your home. The striking and intricate frame combines native craftsmanship and Scandinavian sophistication at the highest level. Each mirror is hand-woven by experienced artisans and is truly unique.
Artisans in Malawi have a centuries-old craft tradition, using natural resources and indigenous knowledge for generations. What they lack is access to modern design, a platform to sell their products, and the financial resources to establish themselves as a sustainable business. That's where Maria and her team, our local partner, come in. Their award-winning social enterprise helps low-income artisans build their businesses while preserving a centuries-old cultural heritage.
Round available in two sizes: Small Ø 75 cm and large Ø 100 cm, incl. mirror glass
Installation is simple: the mirror has a metal loop on the back and can be hung on the wall like a picture. 
Diameter: 75 cm and 100 cm
Rattan material
Colour: Nature
Production time: 1-2 days
Origin: Malawi
Good to know:
Each mirror is hand-woven by artisans from an award-winning social enterprise in Malawi and is truly unique. Therefore, please expect small variations.
All orders over 50€ will be shipped free of charge within 2-3 days. If you are not satisfied with a product, you can return it within 30 days.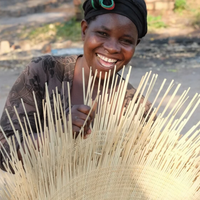 The basket makers and weavers of Blantyre
"I'm super proud that through innovative designs we have rejuvenated and made hip a traditional profession that was previously considered inferior, outdated and underpaid."
Maria, founder and director of the social enterprise