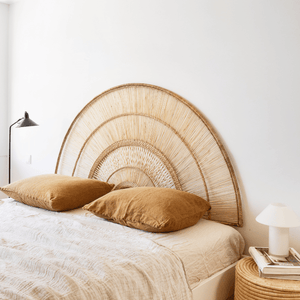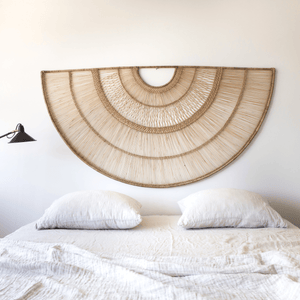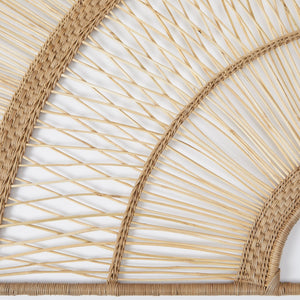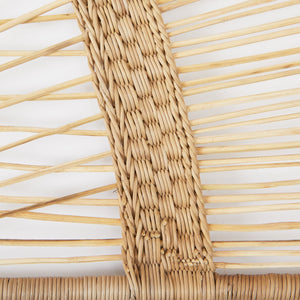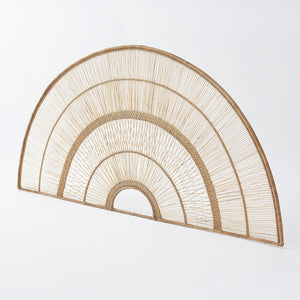 Give your bedroom a rustic and warm atmosphere with this rattan headboard. Carefully woven by hand, the incredibly detailed open weave allows the natural beauty of rattan to come to the fore. Installation is easy: it can be hung on the wall like a picture. 
Each headboard is hand-woven by artisans from an award-winning social enterprise in Malawi, takes five days to complete and is truly unique. 
Length: 180cm
Height: 90cm
Material: Rattan
Colour: Nature
Production time: 5 days
Origin: Malawi
Good to know: 
The Lugono Headboard is made in a fair trade environment from start to finish. 
Since each headboard is unique and woven from a natural product, there may be minimal variations in size and shade.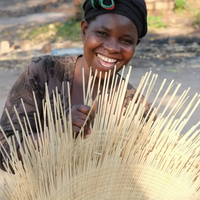 The basket makers and weavers of Blantyre
"I'm super proud that through innovative designs we have rejuvenated and made hip a traditional profession that was previously considered inferior, outdated and underpaid."
Maria, founder of the social enterprise
The Lugono headboard is a bulky item. Items that are shipped as bulky goods will be charged pro rata with 30,00€ shipping costs. This is also the case with normally free shipping. In case of exchange or complaint you can return the item within 30 days at our expense.
Great quality and super nice service
I am absolutely happy with my new rattan headboard for the bed. On request, I could even pick it up directly myself. A very nice customer service! The attachment has also worked well.
Simply beautiful.
I was looking for the perfect rattan headboard and this is it. The price was a little higher than other rattan headboards I looked at. Then when it was delivered (super packaged) I understood why. The design is just beautiful, quality made and sturdy. I have a 180m wide bed and the headboard fits perfectly. I'm also thrilled with the background story of the product and love knowing it's ethically made. Absolutely recommend!