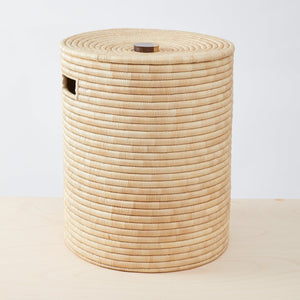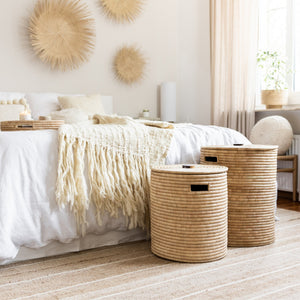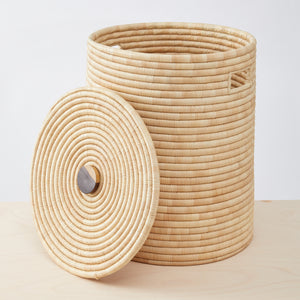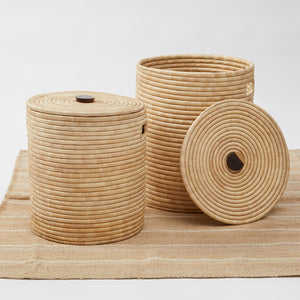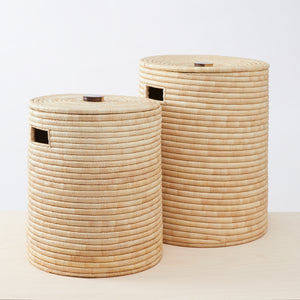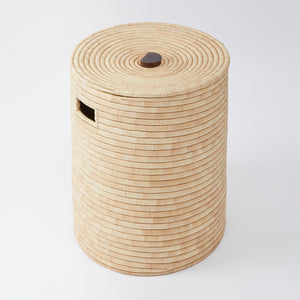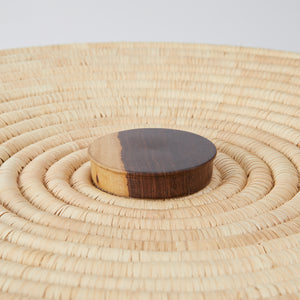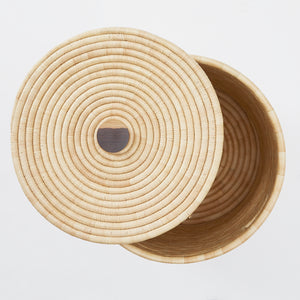 Our large Dengu storage basket is carefully hand-woven from mulaza palm and is the ideal place to store everything. With its matching lid and classy hand-turned mahogany handle, it's a stylish hiding place for all kinds of clutter - linens, towels, toys, rugs and more. Each basket is woven so tightly and sturdily that it also makes a great storage surface next to your bed or sofa. 
All baskets are hand-woven by experienced artisans of an award-winning social enterprise in Malawi and are truly unique.
Through product innovation, international designer collaborations, and excellence, the production of this product creates a circular value chain that offers fair pay, new perspectives, and economic opportunities to braid:ers through sustainable strategies.
Diameter: 45 cm
Height: 55 cm 
Material: Mulaza palm leaves, mahogany wood
Colour: Nature
Production time: Five days
Origin: Malawi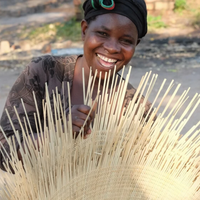 The basket makers and weavers of Blantyre
"I am proud that through innovative designs we have rejuvenated and made hip a traditional profession that was previously considered inferior, outdated and underpaid."
Maria, founder and director of the social enterprise
All orders over 50€ will be shipped free of charge within 2-3 days. If you are not satisfied with a product, you can return it within 30 days.
Very well made and beautiful basket. I am very satisfied.
Beautiful basket
I saw the basket in a small store and then found it again here in the store. I had immediately "fallen in love" with him. Very good quality and size.
Beautiful laundry basket!
My second order from By Native. This hamper is great and looks at least as nice in person as pictured. It is very sturdy, holds lots of laundry and looks great in our bedroom. Delivery was fast. Clear recommendation!